Papaya
Yemeni Mocca Matari Single Origin Microlot Coffee
Within recent years, Yemen Mocha coffee has built a reputation for quality and an exclusive flavour in the coffee industry.

Yemeni Coffee, extensively grown and sold at higher altitudes has been able to gain much recognition for its exotic and unique flavour profile. One of the Yemeni coffee offerings includes the Yemen Microlot Mocha Matari which carries fruity aromatics, thanks to the terrain in which it is grown.

Yemen Mocha Coffee is a true specialty coffee and a single origin "microlot", not to be missed!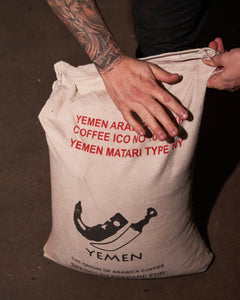 Yemen Coffee
The producing region of this distinctive microlot coffee is known as Bani Matar, situated to the west of Yemen. The Bani Matari region grows its coffee beans at much higher altitudes, similar to a fruit orchard. At approximately 1800- 2500 MASL altitude, this helps bring out this coffee's distinct flavours and aromas.

Matari arabica coffee is planted in Bani Matar valleys and villages, such as Bogl'an Valley, Beit Al-Razki and Al-Gudmah. The crop is handpicked from December to January and rooftop dried within the villages.

In 2007 a dam was established in Bani Matar, in an attempt to provide aid to coffee growers and increase productivity within the industry.