Citrus
Our darkest roast profile available - Supa Crema
Supa Crema, our dark roast coffee blend, is, by design, a coffee to knock your socks off. For those who like a kick in their cup, Supa Crema will leave you ready to take on the day (& possibly the world). A no-nonsense strong cup of coffee that is rich and robust with Dark Chocolate and Fruity Notes.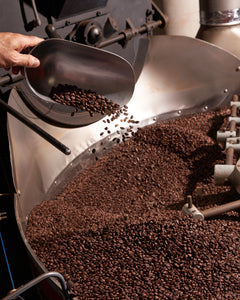 Dark Roast Coffee Blend – Rich and Robust with Dark Chocolate Notes
Supa Crema was designed to bring together traditional and modern coffee enthusiasts, embracing the rich heritage of Italian style espresso while embodying the expertise of a specialty coffee roaster. A new school approach to an old school favourite.

We have carefully combined the most exceptional elements from this heritage with meticulously roasted and skillfully crafted coffee, resulting in a distinct and memorbale flavor experience.