Decaffeinated Mountain Water Decafe Beans
Decaffeinated Coffee Beans have long been a popular alternative to regular coffee beans. Decaf is made by processing the bean with water obtained from some of the world's highest mountains, giving single origin Decaf coffee a unique and delicious taste.

Whether you are looking for a replacement to your morning cup of joe or simply want to enjoy a hot cup of Decaffeinated Coffee without the energy boost that comes with regular coffee, then Decafe is exactly what you need.

Rich in flavour yet without caffeine, Mountain Water Decafe provides you with all the benefits of specialty coffee without any of the drawbacks.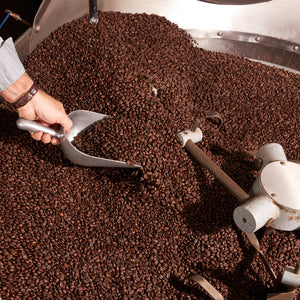 How Is Our Decafe Processed?
Sourcing beans from Córdoba, Veracruz; Latin America's first decaffeination plant, Mountain Water Decafe isn't just a name. The water used in the decaffeination process is melted glacial water from Pico de Orizaba, the highest mountain in Mexico. By using pure natural mountain water, these coffee beans are decaffeinated using a chemical free process.

The green beans are steamed gently then immersed in water saturated with flavour compounds of coffee. As osmosis occurs, the only property that leaves the beans is caffeine. The essential flavour elements in the coffee beans stay there, balanced by the water already containing the flavour elements. The decaf coffee beans are then dried, analysed and cupped.

In June 2017, the The International Taste & Quality Institute based in Brussels with judges selected from 15 of the most prestigious European culinary and sommeliers associations awarded Mountain Water Decaf a gold star Superior rating