El Salvador Divisadero Single Origin Coffee
Mauricio Salaverria's company 'Divisadero Café Farms' oversees the operations at all of his farms across the Ataco and Apaneca regions of El Salvador. The Divisadero name has been in his family for generations, and Mauricio himself is a fifth-generation coffee producer.

But the name Divisadero can also refer to a small, very special lot nestled within Finca Himalaya. Six hectares of fertile clay and volcanic soils, growing multiple varietals, including bourbon, caturra, pacas and pacamara, ranging up to 1600 masl. The plot named Tablon Divisadero produces award winning coffees, including the 7th place in Cup of Excellence 2015.

The Divisadero lot lies on what is known as the 'flower trail' and is adjacent to the mill in which all the harvested coffees are processed and prepared. When processing
these unique lots, the cherries are selectively picked and sorted according to ripeness and size. They are placed on African beds in thick layers to enhance sweetness in the case of naturals. Honeys are pulped without using water to maintain as much pulp on the beans as possible, then spread thinly on African raised beds to ensure even drying, which improves cup clarity and flavour.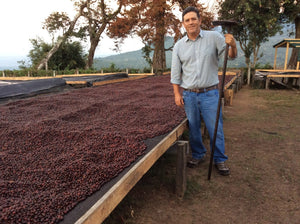 Mauricio Salaverría
Mauricio's coffee grows under shade, and he also has a multi-layered drying area, so coffees can be dried on the top layer in full sun or on the lower layer under shade to slow the drying time. Mauricio is known for taking great care through all steps of production. Each lot from his farm is tracked by harvest date and his processing facilities are immaculate. He is driven by a desire to take good care of the local environment, using rainwater for his washed process coffee, and reusing the skin of the coffee cherries after they're pulped to produce a delicious cascara tea from his Bourbon and Pacamara varietal.