Colombian Single Origin Castillo El Caney
Natural processed Colombian single origin coffee produced by Gustavo Zuluaga, exclusively on his farm "El Caney".

For Gustavo, farming specialty coffee is in his veins. Hailing from a long standing family of coffee farmers, Gustavo is a fourth generation coffee farmer, from the region of Belen de Umbria, Risaralda.

This region is widely known and recognised for producing amazing coffee and giving back to the local community in Belen; through job prospects and offering farming knowledge to the local residents.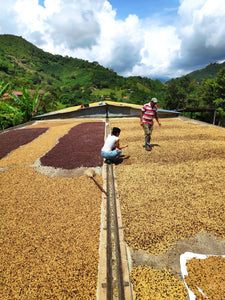 The El Caney coffee farm was purchased by Gustavo Zuluaga in 1998. Since he took control, Gustavo has been cultivating coffee crops with an emphasis on introducing and ensuring good agricultural practices are used within their farming techniques.

The farm is located in Belén De Umbría. El Caney colombian coffee farm, forms part of the coffee cultural landscape of Colombia, that was established as part of the world heritage list by UNESCO in 2011.

Gustavo Zuluaga and his children are third and fourth generation coffee farmers. Their ancestors came to the region from the department of Antioquia, at the beginning of the last century, in a massive migration called 'The Antioquia Colonization'.